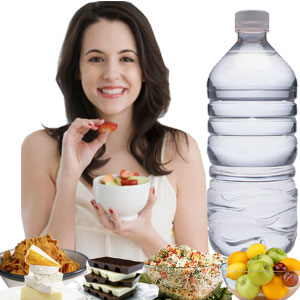 Caffeine, again, can contribute to dehydration, which in turn will interfere with proper synthesis of neurotransmitters. It also uses up a lot of vitamin C. These things could exacerbate ADD as a result, but I have found that I have no problem with moderate amounts of caffeine so long as I drink enough water & have enough C in my diet. You can take C supplements- but many of these can cause diarrhea, which will then increase other deficiencies & exacerbate dehydration. C supplements are best taken on a full stomach. Smaller doses taken 4X per day are better than one large dose, since this gets pissed away in a few hours. Frankly, I find that just eating well (which will naturally insure a steady intake of C) to be much less of a hassle than taking supplements 4X per day.
I've never heard of apples & milk causing inordinate drowsiness, except when milk is heated to release the tryptophan. I suppose a person who has difficulty digesting milk might be fatigued by the alcohols created by its fermentation. Most milk digestion problems can be corrected by having a little bit of cardamom or nutmeg along with it. When cold milk hits stomach acid, it curdles into little chunks of cheese. These chunks have a poor surface-to-mass ratio. The enzymes only work on the surface, so the lactose in the middle has plenty of time to ferment. I discovered this when I was experimenting with making Indian dessert cheeses.
I had several different pots of milk boiling, and added different flavorings to each. When I added lemon juice to curdle them, the ones containing cardamom and nutmeg refused to curdle. I had heard that Ayurveda reccommends those spices for people having a hard time with milk, and I think that this explains it. Nutmeg and cardamom contain chemicals which keep milk proteins from coagulating. This enables the milk to remain a liquid in the stomach, which causes it to digest very fast. My only dietary rule is a paraphrase of Aleister Crowley: "Eat what thou wilt shall be the whole of the law."
I keep my digestion strong with Yoga, & have resolved most of my neurotic anxieties with psychoanalysis & introspection & giving/receiving love. I'm lacto-ovo-vegetarian by preference, but am not rigid. One time early on I pissed someone off by being too preachy about my diet. I went out and ate a Whopper as penance, then made sure they knew & had my apology. Alienating your friends is worse for your health than anything you can eat. If a friend is unaware of my preference, and lovingly offers me food with meat in it, I eat it as a gift from God & never have a problem afterwards, which is interesting- because when I have eaten meat simply because it would be inconvenient to get something else, I feel it in my stomach like a lump for a while afterwards. More specifically for ADD, there are a few dietary things that I have found very helpful. I discovered them myself, and don't know if they'll work for everybody. See the "herbal/nutritional cures for A.D.D.?" thread to read about it, & some interesting conversations about it.